Blandest of the Bland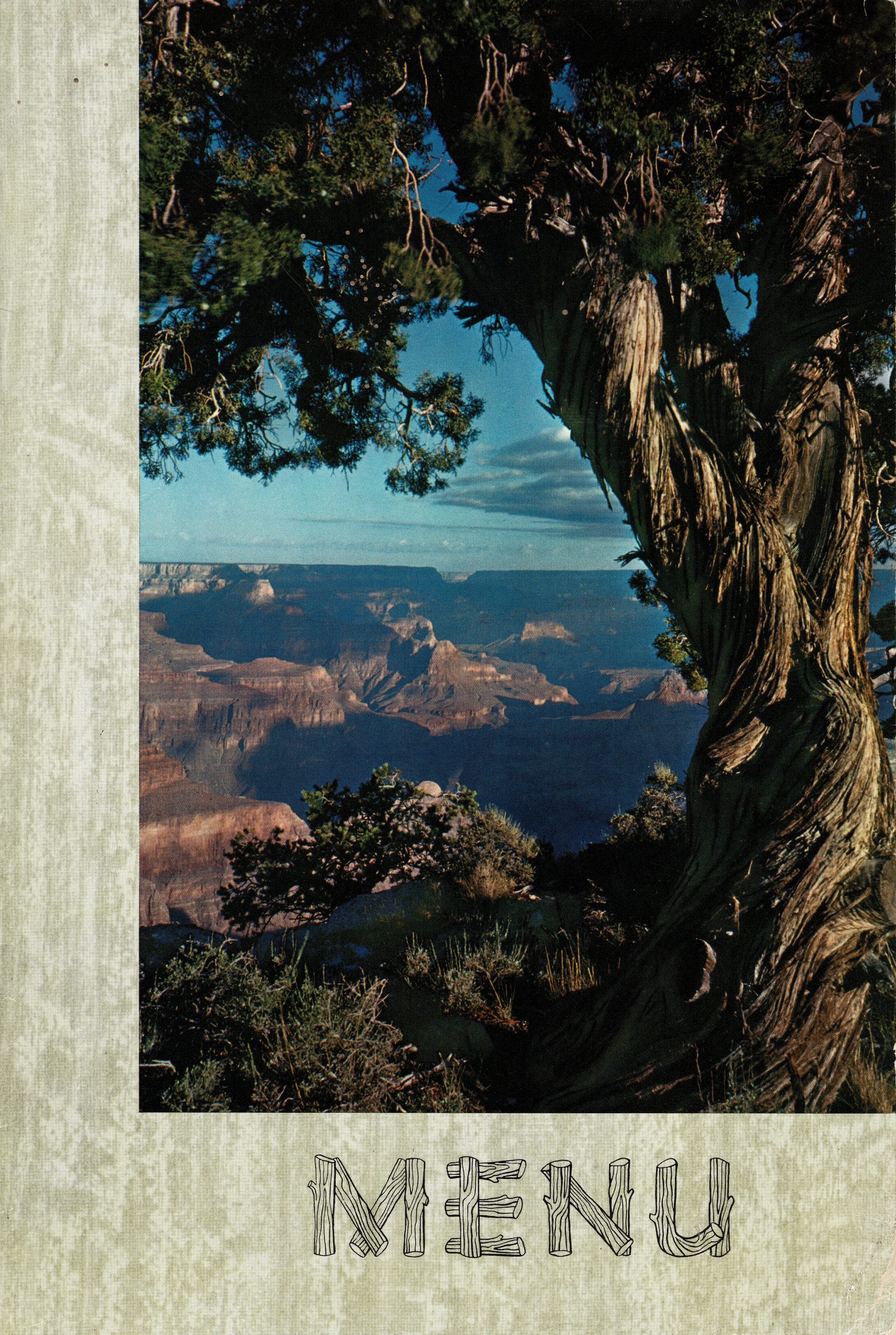 As a collector of regional historic restaurant menus, I have a particular eye out for examples from Albany, where I now live, and from the Astoria area, where I grew up. Today the mail brought me a breakfast menu from the coffee shop of the John Jacob Astor Hotel in Astoria from June of 1955, adorned with a cover photo of … NOT the Columbia River, but the Colorado River, the Grand Canyon! Inside is a menu that displays one of the blandest, boringest arrays of offerings to be found in a hotel, even in the bland 1950s. All the cold cereals are from Kellog's, all the protein is porcine, there's eggs and coffee; there's not a bit of a bite that says Astoria or Oregon or Pacific Northwest, with the possible exception of the baked apple with cream.
As for that cover photo, many restaurants had their menus printed by companies that offered stock photos such as this one, with, to my mind, ludicrous results. I have an example from the Nomad restaurant in Boardman, located the on eastern Oregon sand dunes along the Columbia River, that depicts a beach on the Mediterranean island of Capri, and another from the Senator Hotel in Salem with what I am pretty sure is a photo of Jenny Lake and the Tetons of Wyoming. (The Nomad, by the way, is a name suggested by the sand dunes of north Africa, was operated in conjunction with the Nugget Motel [not a nugget of gold is to be found within many miles of Boardman], and also included a lounge named for the acacia tree of Australia. Strange place.)
But look at what also happened, menu-wise, in the 1950s at the John Jacob Astor Hotel: this locally-created (I think) cover art for its Fur Trader dining room and lounge. Ye gods! I shall refrain from the art commentary; I'm sure you can write your own. As for the food, this dinner menu is pretty limited: beef tenderloin steak, New York steak, prime rib, a half chicken, Gulf Coast jumbo shrimp, and … French fried Oregon Coast razor clams! Local food!*
But no salmon. No. Unbelievable. And I have yet another John Jacob Astor Hotel menu, circa 1950, for their Salmon Derby Grotto. It's a breakfast menu, the offerings almost identical to the Grand Canyon breakfast menu. But at least there is a salmon pictured on the cover.
To be fair, the beef was usually local, too. When we moved to the area in 1956, we rented from a fellow named Hy Collins, who managed the Fur Trader. He raised Black Angus and Hereford cattle on the fields around our house, and they found their way onto the Fur Trader menu.