Mammy's Kitchen Secrets
Kitchen Secrets: this was the title of a number of community cookbooks issued in the year 1951, and all of them had this image of a Black Mammy on the cover. And just why would this have been so?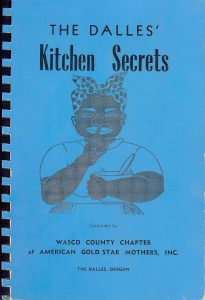 Community cookbooks—those compilations of contributed favorite recipes put together by a local group to raise money for its programs—were frequently produced by a company that assembled the recipes, did the layout, provided the cover illustration, and did the printing and binding. Bev-Ron Publishing Company was founded in Kansas City, Missouri, in 1947 to do just this kind of work, and it continues to do so today as Cookbook Publishers of Overland Park, Kansas, a suburb of Kansas City.
My own collection of regional cookbooks includes at least eight produced by Bev-Ron, and five of those are 1951 "Mammy"-cover cookbooks:
Amity Kitchen Secrets, by the Women's Society of Christian Service of Amity Methodist Church
Sweet Home's Kitchen Secrets by the Women's Society of Christian Service of Sweet Home Community Methodist Church
Lebanon's Kitchen Secrets by the Pearl Rebekah Lodge No. 47
The Dalles' Kitchen Secrets by the Wasco County Chapter, American Gold Star Mothers
Cheney's Kitchen Secrets by the Lutheran Ladies Guild of Cheney, Washington
Methodist Church women seemed to favor this cover design. A quick search turned up 1951 Kitchen Secrets Methodist cookbooks published in Waterford, Indiana; Fayetteville, Tennessee; West Davenport, New York; and Denville, New Jersey. Other examples include a PTA in Walloon Lake, Michigan; the Order of the Eastern Star in Greensboro, North Carolina; and the Women's Society of Christian Service in Louise, Mississippi, which of course was titled Louise's Kitchen Secrets.
However benignly intended, the cover illustration comes across as a jarring stereotype to today's viewers. On the inside, the kitchen secrets of course are not-so-secret: Lebanon, for example, presents a lime jello salad with an orange, cabbage, celery, and onion, plus some evaporated milk; noodle chop suey made with a can of tomato soup; and a wide range of cakes and cookies, including apple sauce cake and a gum drop cake, date squares, and sour cream cookies. Perfect homemade dishes for 1951 homes.