Roughhouse Times at Tad's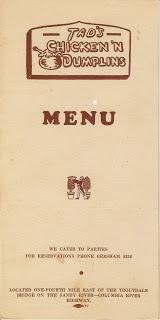 After a pleasant Sunday afternoon of historical excursioning a few years ago, two colleagues and I came to a dinner stop at Tad's Chicken 'n Dumplins [sic], scenically situated on a bank of the Sandy River near Troutdale. With a history going back to the 1920s, Tad's was a living reminder of the Sunday-drive-and-a-chicken-dinner outings that once characterized life near the Columbia River Highway; the highway had, after all, been built for pleasure driving.
Roadhouses – rural roadside establishments that served up food, drink, and often music and dancing – were soon strewn along the highway after its inauguration in 1916, and the chicken dinner was a favorite. Witness
Chanticleer Inn
(1912-1930), with a name that evoked triple-chicken references: to the legendary rooster of fable, to chicken dinners, and to Rooster Rock, located just below the inn. After prohibition – which began in Oregon on January 1, 1916 – Sunday drives and chicken dinners lost one of their appeals, although roadhouses were notoriously a place where liquor might yet be procured if one knew the password.
Here we have a menu and a beverage coaster from Tad's that date from not long after the repeal of prohibition on April 7, 1933. There are still a few restrictions, such as that wine, and ale that is 6% alcohol, will only be served with food. Mixed drinks? Well, if you bring the liquor, Tad's would serve you up a martini or an old fashioned; the charge was for the service, the glassware used, and any soda, olives, or other additives.
Oregonian, Sept. 8, 1936
Of course, bringing back alcohol had its drawbacks, and the account of a roughhousing suggests why this menu is summed up in the immortal phrase, WE RESERVE THE RIGHT TO REFUSE SERVICE TO ANYONE.
And how about the food on the menu? What changed, what's new? Chicken and dumplings was a feature to the end (I cannot bring myself to use Tad's spelling unless I'm quoting), but notice that here fried chicken is a new addition. The other dinner items are very limited: two egg dishes and three beef items; the pork chops have just been axed. Otherwise, this is a place for sandwiches, chili, and fries. A quick Google search for more history about Tad's was not too helpful, but there are references to its early incarnation as a hot dog stand, and in 1936 it's referred to as a barbecue joint. At the time of the restaurant's closure in 2019, menu offered a lot of beef and seafood dishes and a half-dozen chicken concoctions – still no pork chops, though. The wine list became vastly more varied, but loganberry and currant wine disappeared; Tad's menu still offered unnamed house wines "by the glass or bottle": chablis, blush, and burgundy. That listing is very much reminiscent of roadhouse days.