The Nomad of Boardman
Or, Exotic Images, Mundane Realities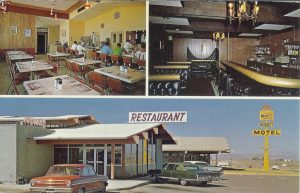 Sometimes we are attracted to the exotic, the different, the colorful. At other times, we seek the familiar and the comfortable.
Along the stretch of I-84 between The Dalles and Pendleton lies the small town of Boardman. For many, it is a service stop, a place to get gas, a meal, a motel for the night. For those purposes, many looked for and found the Best Western Nugget Motel and its adjacent restaurant, The Nomad.
The motel and restaurant at Boardman represented a small cluster of the familiar cloaked in a thin veil of the superficially exotic. Similar combinations were (and are) found throughout the state and the nation along the Interstates; this one at Boardman is now gone, but it served travelers for about four decades.
First, the exotic. The motel name, the Nugget, suggested GOLD, that lure of the golden West. Boardman is a good hundred miles from any significant gold-bearing area. The restaurant name, The Nomad, brought to mind North African deserts and camels. Well, there is sand near Boardman. The Acacia Room, the restaurant's lounge, was named for plants associated with Australia. There are no native acacias in Boardman. The restaurant described Boardman as the place "Where the Sun Meets the Sand." Indeed they do meet there—as they do in so many other places—and the phrase suggests that Boardman has resort-like qualities. The menu's cover photo of a beach on the Mediterranean isle of Capri emphasizes those qualities, perhaps suggesting that Boardman was the Capri of the Columbia. This is doubtful.
Second, the familiar and the comfortable. The postcard view makes it clear that nothing about The Nomad's décor references camels, nomads, sand, or acacias. A look at the menu confirms that the food is mainstream 1975 fare: steaks, sandwiches, seafood. Seafood is wide-ranging, with fresh Columbia River salmon, halibut, oysters, Atlantic scallops, lobster tail, and jumbo frog logs. The frog legs might seem to be exotic, but in 1975 we were at the tail end of a minor national fad for farmed frog. A surprising omission from the carte is chicken: the mis-nomered chicken fried steak appears, but not one piece of chicken was to be found.
An aside: the menu was printed by Victor Cornelius Menus of Eastland, Texas, a firm that is still very much in business. One of their popular products was a monthly menu cover with "a colorful seasonal scene." This cover seems appropriate for July, but the geography is out of sync with the season.