Evaporated Vegetables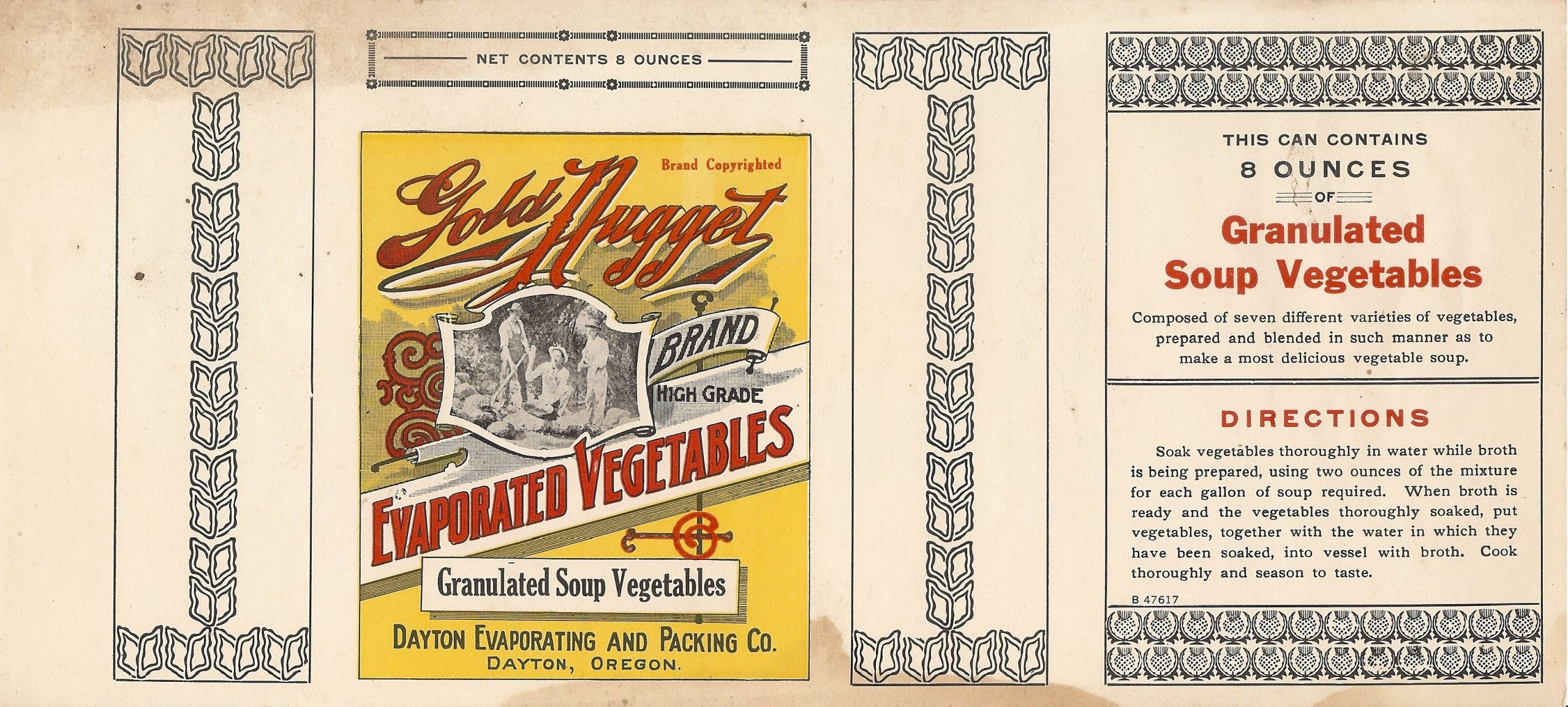 An unused (though slightly stained) canning label
Wow! Canned, evaporated, granulated soup vegetables! There are said to be seven varieties of vegetables in each 8-ounce can, although they are not specified. And what's the story of the Gold Nugget brand, and the Dayton Evaporating and Packing Company?
Fortuitously, a splendidly clarifying article appeared on July 27, 2011, in the McMinnville
News-Register
, by Elaine Rohse,
"Death of a Dayton Business."
 The DE&PC was begun in 1890 by Douglas A. Snyder and his father, Reuben. In the 1890s, the firm's dehydrated potatoes were popular with miners (clearly it was a splendid product for those trekking over Chilkoot Pass into the Klondike, where each man was required to carry a year's supply of food with him). Thus the Gold Nugget brand.
Gold Nugget soup mix helped feed the troops in the Spanish-American War and World War I. The mix included not only potatoes, but also cabbage, turnips, squash, onions, parsnips, and carrots. During and after war times, it was apparently popular in restaurants and hotels as well as military mess halls.
The company was feeding both American and Russian troops when it was inadvertently, fatally wounded by the Office of Price Administration's price ceilings after 1944. Writer Rohse casts this history in a "government giveth/government taketh away" matrix; perhaps it is collateral damage instead. In any case, she tells a vivid tale that weaves a bit of now-vanished local agriculture together with worldwide markets, a gold rush or two,  and three wars. And our suspicions that soup mixes have been around for quite a long while now, are quite confirmed.